MAINTENANCE THERAPY OF RECURRENT OVARIAN CANCER WITH ZEJULA (niraparib)
Safety Data From the NOVA Trial
Most hematologic ARs occurred during the first 3 months of therapy1
NOVA: Hematologic ARs reported in ≥10% of patients receiving ZEJULA2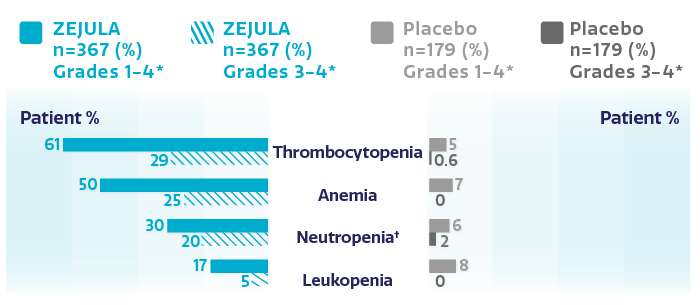 The rate of grade ≥3 thrombocytopenia after cycle 3 was 2% in patients receiving ZEJULA.3
Abnormal laboratory findings (grades 1-4) in ≥25% of patients receiving ZEJULA.2
Decrease in hemoglobin (85%), decrease in platelet count (72%), decrease in white blood cell count (66%), decrease in absolute neutrophil count (53%), increase in AST (36%), and increase in ALT (28%)
Common Terminology Criteria for Adverse Events version 4.02.
Includes preferred terms of neutropenic infection, neutropenic sepsis, and febrile neutropenia.
Discontinuation due to hematologic adverse reactions was uncommon2
3% Rate of discontinuation
---
Thrombocytopenia
2% Rate of discontinuation
---
Neutropenia
1% Rate of discontinuation
---
Anemia
Hematologic ARs generally occurred within the first 3 treatment cycles; after dose adjustment on the basis of an individual adverse event profile, the incidence of grade 3/4 thrombocytopenia, neutropenia, or fatigue was infrequent beyond cycle 33
1 patient (<1%) in the ZEJULA arm experienced febrile neutropenia4
In the same clinical trial, 15% of the overall population discontinued treatment due to ARs2
Thrombocytopenia was typically transient with dose modification3,4
Platelet levels decreased initially but showed stabilization after cycle 3 with appropriate dose modification3
The median time to onset of grade 3/4 thrombocytopenia was 23 days in the ZEJULA treatment arm4
Most grade 3/4 thrombocytopenia events were transient with dose interruption or dose reduction. The median duration was 10 days4
Change in platelet levels from baseline over time3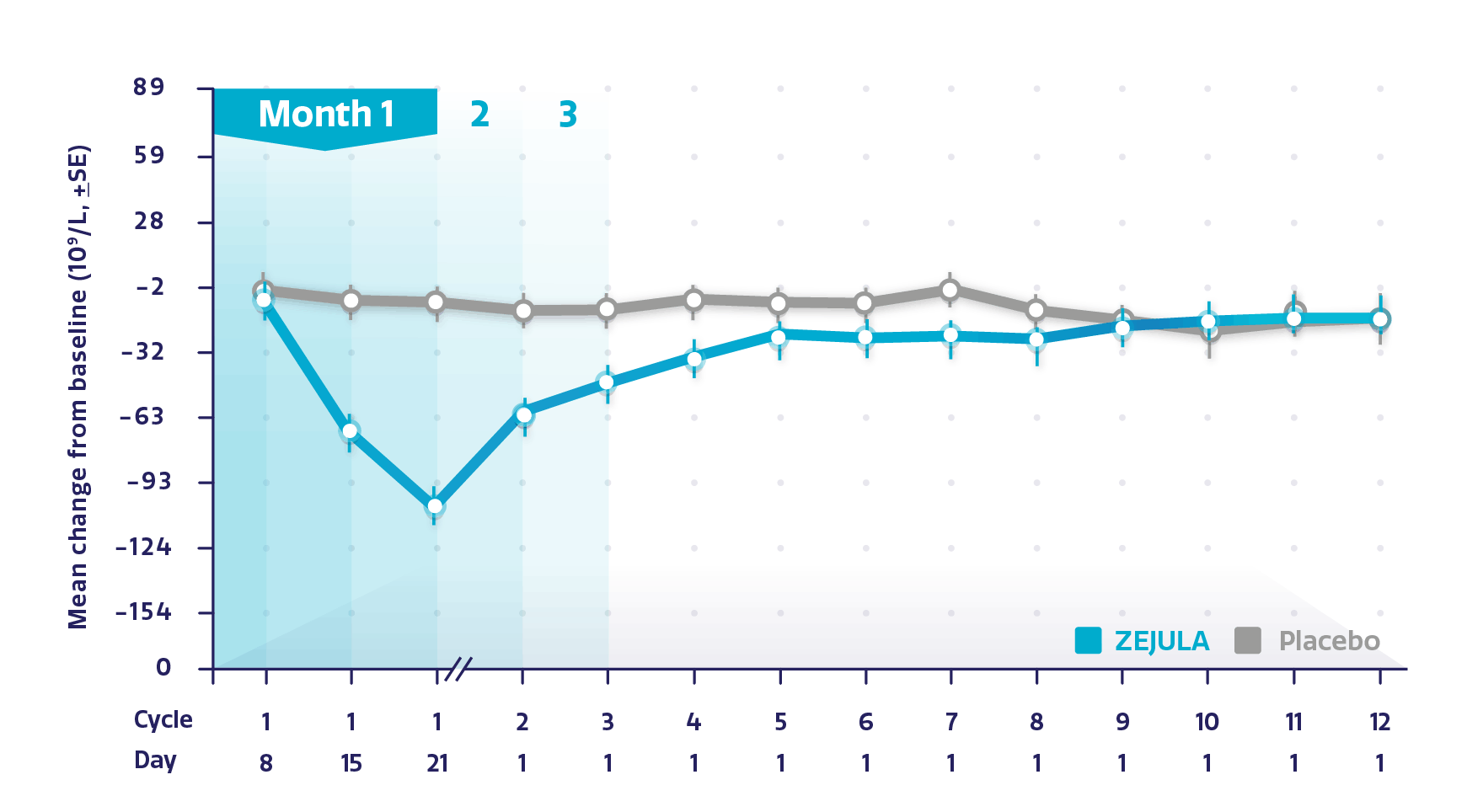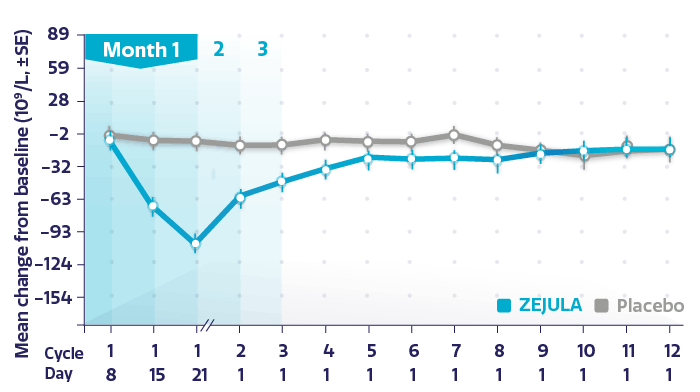 No clinically significant bleeding events (grade ≥3) were associated with thrombocytopenia.5
All bleeding events associated with thrombocytopenia were grade 1/2; 1 patient had grade 3 petechiae and hematoma concurrent with a serious adverse event of pancytopenia5
Incidence of grade 3/4 thrombocytopenia in
the NOVA trial; treatment months 1-54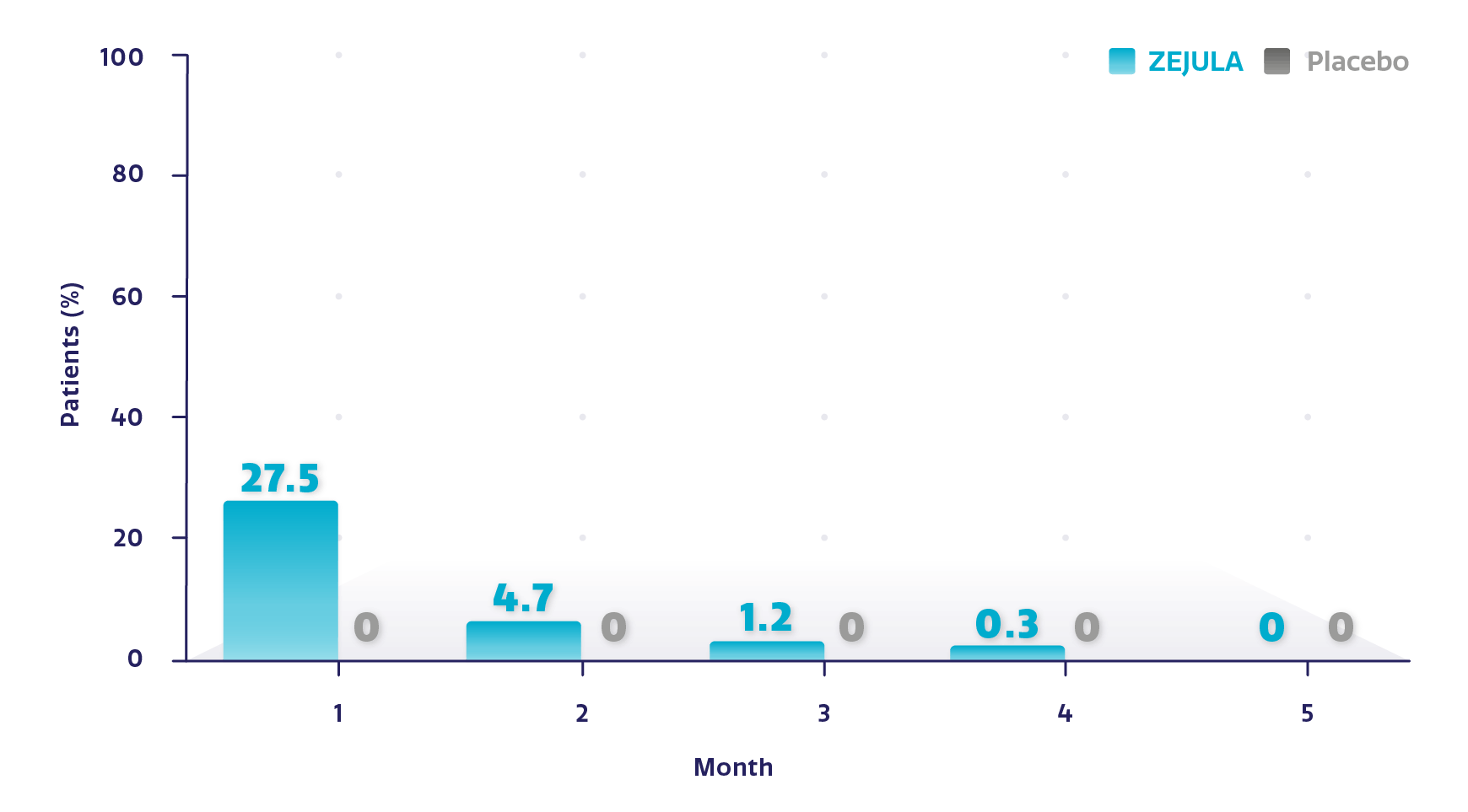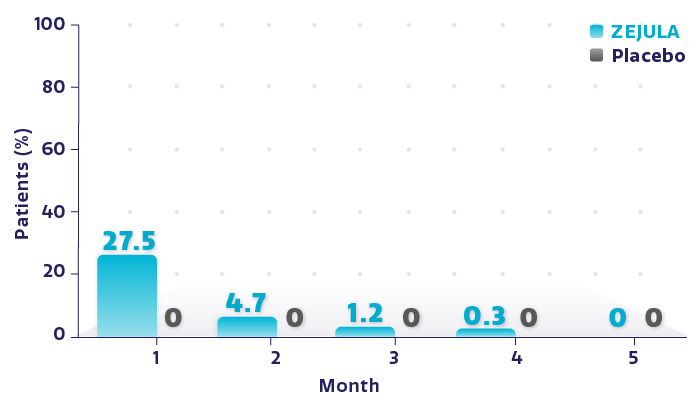 The side effect profile of ZEJULA is well-characterized2
Adverse reactions reported in ≥10% of patients receiving ZEJULA2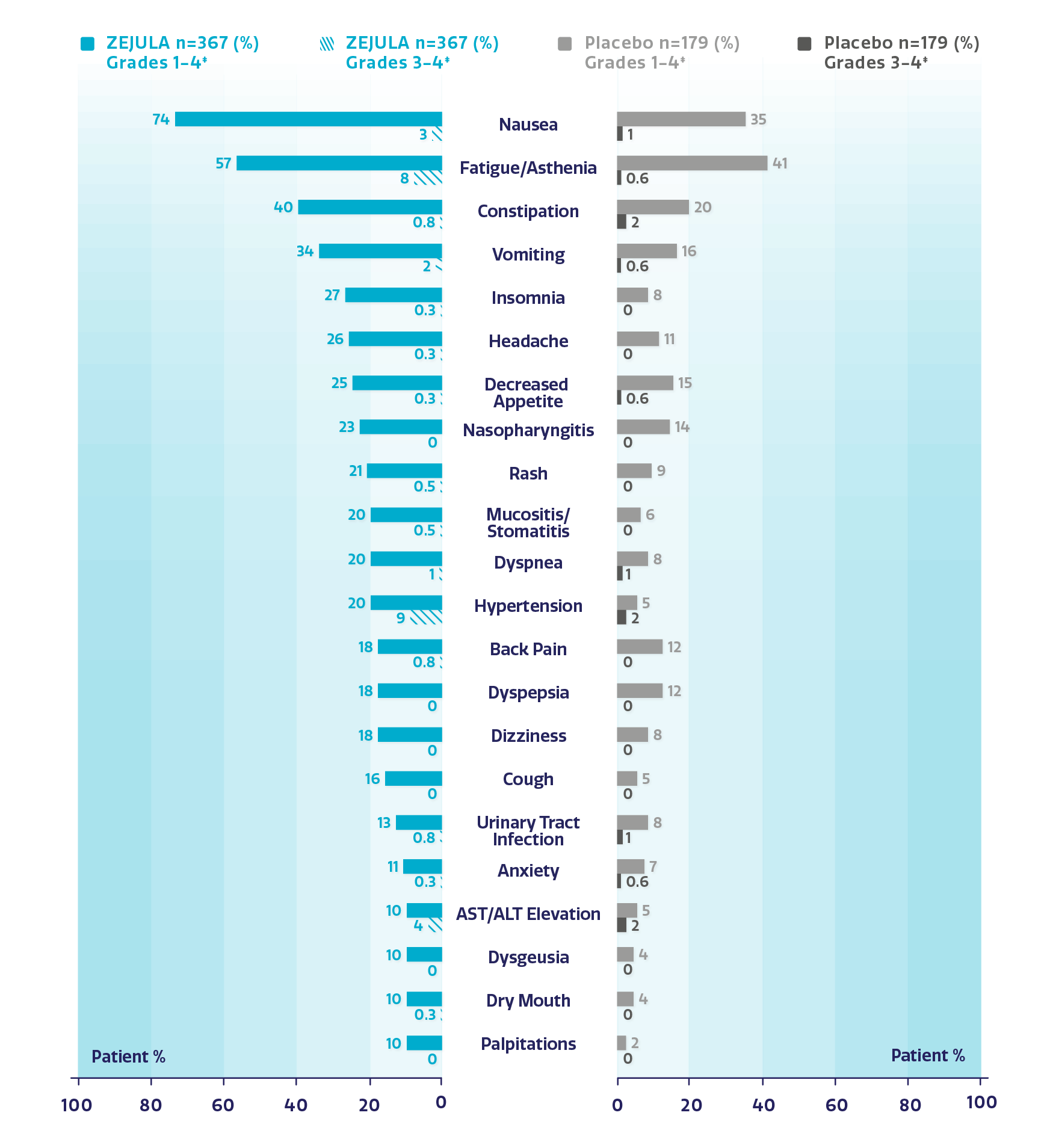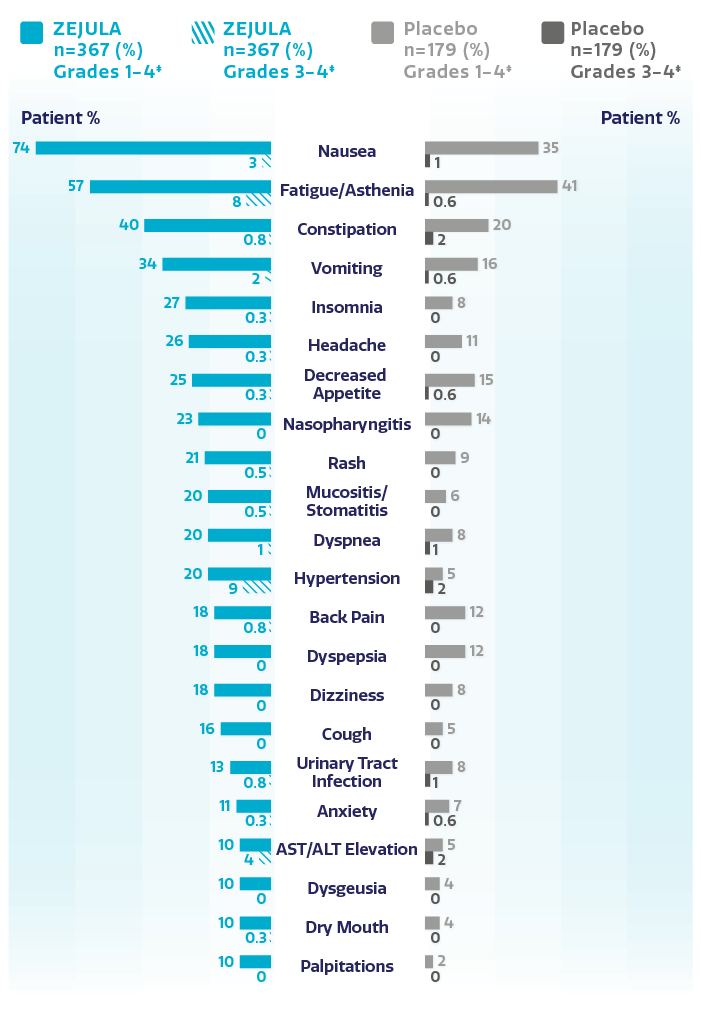 Side effects were manageable with dose interruption and modification.
ARs led to dose reduction or interruption in 69% of patients, most frequently from thrombocytopenia (41%) and anemia (20%)2
No increase in all-grade diarrhea was observed with ZEJULA vs placebo5
No on-treatment deaths were reported during the study5
Monitoring complete blood counts, blood pressure, and heart rate helps identify the need to dose modify2
After year 1§
1x every
2-3 months
Blood pressure and heart rate
1st and 2nd month
1x a
week
After year 1§
1x every
2-3 months
Monitor periodically. Schedule provided as an example.