TREATMENT OF LATE-LINE HRD+ ADVANCED OVARIAN CANCER AFTER THREE OR MORE CHEMOTHERAPIES WITH ZEJULA (niraparib)
Safety Data From the QUADRA Trial
Safety signals observed in QUADRA were consistent
with those found in NOVA1,2
However, rates of most common adverse reactions observed in QUADRA were different from NOVA, and fatal adverse reactions occurred in 2% of patients, including cardiac arrest. In QUADRA, serious adverse reactions occurred in 43% of patients receiving ZEJULA. Serious adverse reactions in >3% of patients were small intestinal obstruction (7%), vomiting (6%), nausea (5%), and abdominal pain (4%).
ARs reported in ≥10% of patients (N=463)3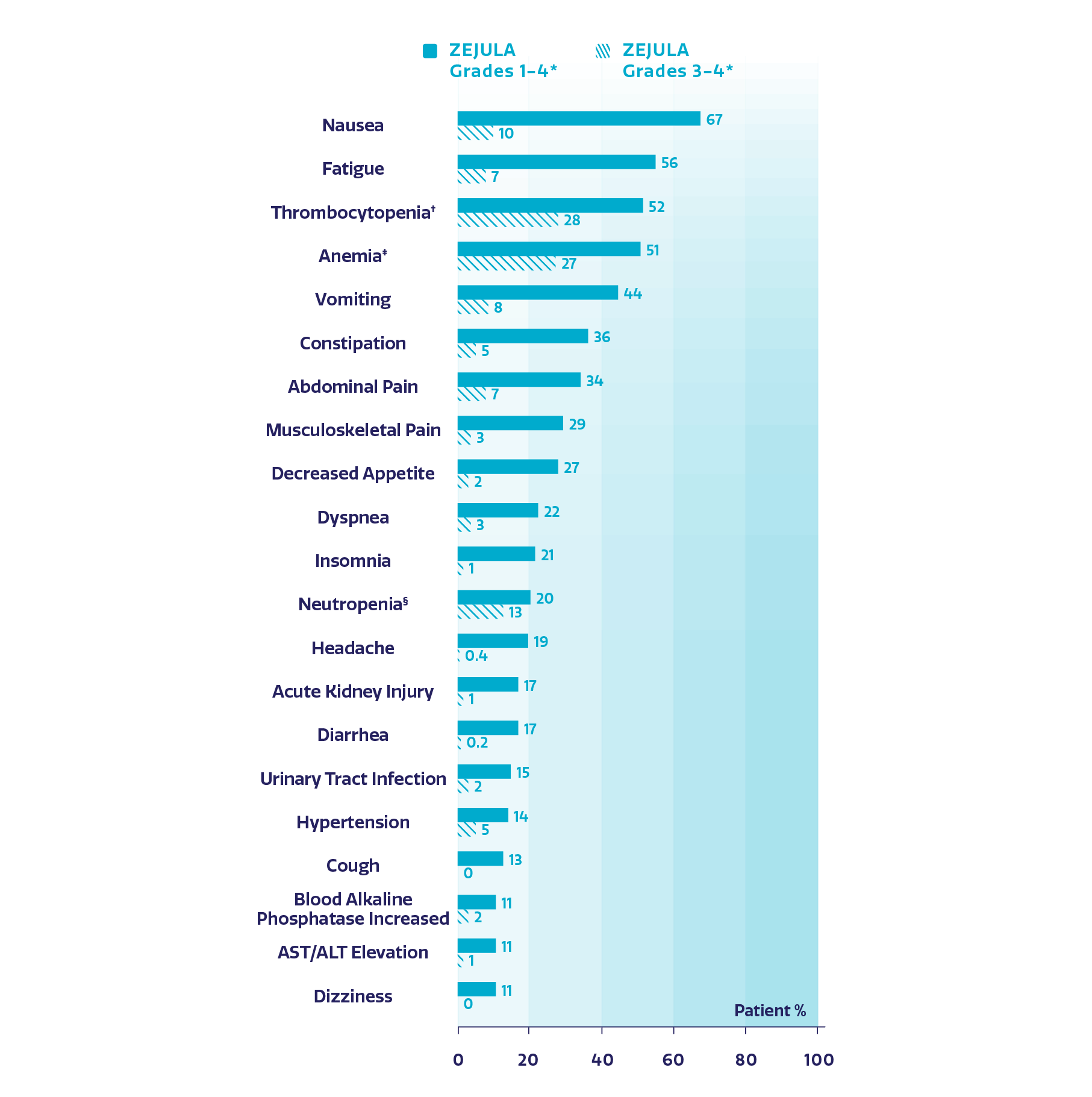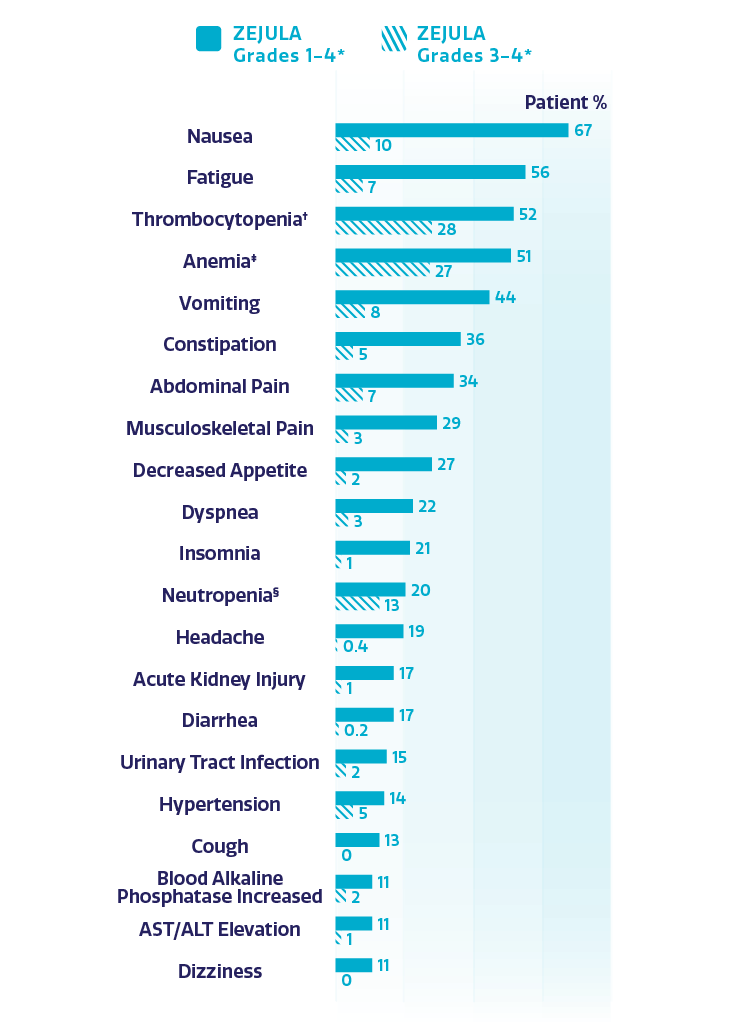 Common lab abnormalities (Grades 1–4) in ≥25% of patients who received ZEJULA in QUADRA included3:
Decreased hemoglobin (83%), increased glucose (66%), decreased platelets (60%), decreased lymphocytes (57%), decreased leukocytes (53%), decreased magnesium (46%), increased alkaline phosphatase (40%), increased gamma glutamyl transferase (40%), increased creatinine (36%), decreased sodium (34%), decreased neutrophils (34%), increased aspartate aminotransferase (29%), and decreased albumin (27%).
Common Terminology Criteria for Adverse Events version 4.02.

Thrombocytopenia includes events with preferred terms of thrombocytopenia and platelet count decreased.
Anemia includes events with preferred terms of anemia, hemoglobin decreased, anemia macrocytic, aplastic anemia, and normochromic normocytic anemia.
Neutropenia includes events with preferred terms of neutropenia, neutrophil count decreased, neutropenic infection, and neutropenic sepsis.
Adverse reactions in QUADRA led to3:
Dose reduction or interruption, 73%
Most frequently from:
Thrombocytopenia, 40%
Nausea, 13%
Abdominal pain, 5%
Anemia, 21%
Vomiting, 11%
Fatigue, 9%
Neutropenia, 11%
Monitoring complete blood counts, blood pressure, and heart rate helps identify the need to dose modify3
After year 1||
1x every
2-3 months
Blood pressure and heart rate
1st and 2nd month
1x a
week
After year 1||
1x every
2-3 months
Monitor periodically. Schedule provided as an example.